Beauty routine in winter: what good habits to adopt?
4 min read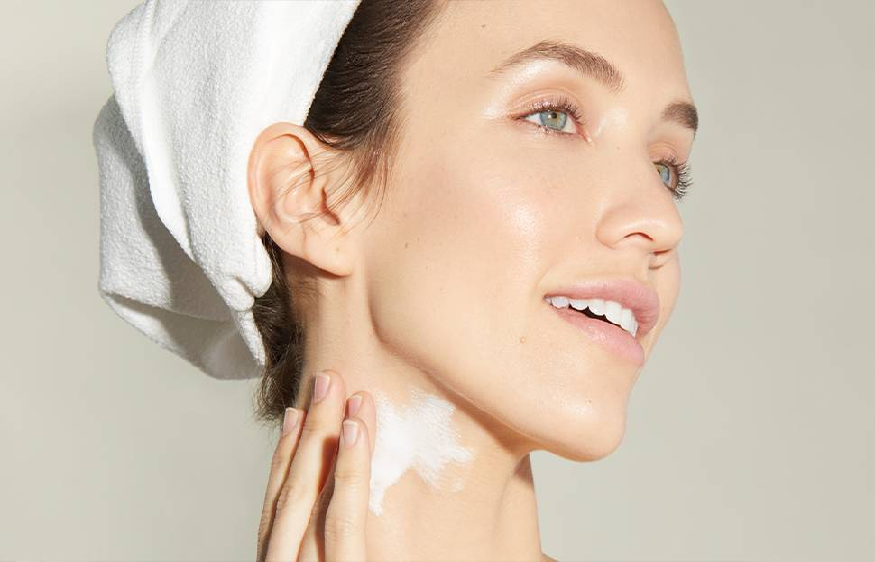 Skiing and snowshoeing outings, walks in the snow, hot chocolates and fondues: winter is coming, and Christmas is also fast approaching! However, this magical and warm season is not for everyone, and certainly not for your skin, which does not tolerate the cold and excesses well. It is therefore essential to adapt your beauty routine in winter to keep beautiful, luminous skin.
Why is my skin more sensitive in winter?
In winter, temperatures drop drastically and to cope with this and prevent heat loss, your body reduces the diameter of your blood vessels. This has the effect of dehydrating the cells of your skin because the production of sebum, a real protective film, decreases. Less protected and more prone to redness and irritation , your skin suffers, itches and feels tight
The approach of the holidays with rich and copious meals will also put your body to the test, which will be felt on the state of your skin. This is why it is necessary to adapt your beauty routine in winter as well as at each change of season to provide your skin with everything it needs.Dry, tight skin, small pimples, plaques… Winter and the holidays can be very harsh on your skin, but there's no question of giving up! With a good beauty routine in winter and appropriate care, we guarantee that your skin will be as radiant as during your summer vacation, minus the tan. Here are our 4 golden rules for perfect skin for the holidays!
Gentle make-up removal and cleansing of the skin
If there's one thing that doesn't change with the seasons, it's make-up removal and daily cleansing of the skin. If you skip this step, your skin won't thank you! Indeed, make-up and external pollution clog your pores. As your skin can no longer breathe, its hydrolipidic film (the one that protects it from external aggressions) deteriorates, making your skin even drier. Not great right?
At the end of each day, it is therefore essential to thoroughly cleanse and remove make-up from your skin using natural and gentle products. You can use our micellar lotion as well as our cleansing foam , both of which contain extremely moisturizing aloe vera. Essential treatments to include in your beauty routine in winter, as in every season!
A suitable face cream
Of course, after having cleansed your skin properly, it must be hydrated and provided with the lipids it needs to form a protective barrier that will prevent it from suffering external aggressions. Nutritious oils and shea butter will be able to protect your skin, nourish it and moisturize it effectively to fight against skin dryness.
In the morning, you can apply our day cream , which contains many beneficial active ingredients for your winter beauty routine. Bamboo extract to protect your skin from external aggressions, nourishing soybean oil rich in vitamin E and water lily extract to hydrate. In the evening, the night cream , very rich in oils and shea butter, will allow you to intensely nourish your skin .
You can also perform a facial self-massage when applying your creams. This activates blood circulation and therefore gives you a healthy glow while smoothing the fine lines on your face. Don't forget to moisturize your lips well with our balm , which are also prone to cold and chapping!
Regular masks and scrubs for an effective winter beauty routine
In addition to these treatments, you can exfoliate once a week to eliminate dead cells and cleanse your skin thoroughly. Our exfoliating gel , rich in plant active ingredients, gently exfoliates and even prevents small pimples thanks to its organic rice grain powder. Of course, we don't abuse it so as not to attack your skin!
After exfoliation, you can apply a moisturizing face mask that will give your skin a boost of radiance . Rich in vegetable oils, hyaluronic acid and aloe vera, it deeply protects and hydrates your skin.
We do not forget the body!
Taking care of the skin on your face is good, but you also have to take care of your body! Indeed, winter clothes can be a false insulating barrier when they are too tight, preventing cellular respiration and amplifying dryness. It is therefore necessary to nourish and moisturize your skin well with rich treatments such as our body milk , to be applied as much as possible.
The hands, which are very exposed to the cold, also need to be nourished and protected against the cold. Rich in shea butter and organic honey, our hand cream is ideal for restoring comfort and suppleness to your skin . A must-have in your winter beauty routine!
Beauty routine in winter: other good habits to adopt for perfect skin
Adopting a good beauty routine in winter with appropriate care is good, but you shouldn't neglect your lifestyle either! Admittedly, you will certainly overindulge during festive meals, and eat richer to compensate for the low temperatures, but it is essential to maintain a healthy lifestyle. Drink plenty of water to stay hydrated, and try to eat light between holiday meals. Vegetables and fruits at will!
Even if it's cold and you don't necessarily want to face freezing temperatures, try to exercise and sweat as much as possible. Your body will thus better eliminate toxins, and this will allow you to let off steam and better manage your stress, for example.
Finally, get plenty of rest and stick to the number of hours of sleep you need. A rested skin is a luminous skin! And if you need a little extra boost, take a vitamin cure!